Story published in "Hindustan Times, Delhi with title " The Devil gets more than its due" Alok Ojha's less than five-minutes film, Devil Share, has been screened in many film festivals.
by: Asheesh Mamgain
Alok Ojha , spent a total of 10 months cooped up in his home, in front of his computer screen, trying to create something that only he believed in. "My friends made fun of me when I told them. But I believed in it.
Today I feel proud of my achievement," says he. Loki Ojha , a resident of Rohini, created a 4 minute and 12 sec-  long horror film, titled Devil Share. The filmed caught the imagination of creative brains running movie festivals all over the world to such an extent that it has been screened in a total of six animation film festivals. It has gone to Spain, Russia, USA, Rome, Japan and Germany.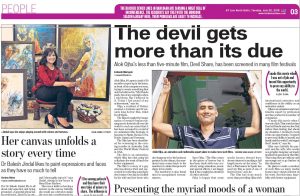 The film has been shortlisted for screening in the coming months in Australia, Italy and the World Music Festival in USA. The film is an animation, which Ojha has shot using his cell phone  with out any better equipment. The film is a story of a guy who has always tried and succeed in cornering somebody else's share. One day, he is killed by his wife and her lover, who also happens to be his business partner: ln the climax, the murdered man comes back to his murderer to claim that person's share in his death. The murderer is also found dead in unexplained circumstances. Says Ojha, "The film comes in the genre of horror but it has been dealt with very creatively using animation, music and special effects. I am happy that it has caught the attention of critics abroad."Ojha is happy that some media houses abroad have shown interest in making a full length movie on the story. "In fact, a film banner in Spain has used my film as part of one of their movies," says he. The film has done much more than providing Ojha with international attention and confidence in his ability as an animation maker. Ojha is an animation and multimedia expert by profession and has worked in a number of companies.
"I made this movie when I was out of j ob. That was the time I had self-doubt and was low But rather than feeling bad about my situation, I decided t0 turn it into an opportunity. I wanted to prove my ability to myself, my family and the world. I am happy that I made it," says he.
Ojha says initially his parents and his Wife, who works as a graphic designer, seriously doubted his passion for this film. "But today, they are with me and encourage me to go further in this direction."
He plans to make a number of such films many media houses have shown interest in his work. But this time, hopefully with better equipment.