FROM THE DARKNESS OF HIS STRUGGLES
TO THE LIMELIGHT OF HIS FUTURE WITH HIS ACHIEVEMENTS IN THE CANNES FILM FESTIVAL (FROM NOWHERE TO CANNES)
Ancient mythology describes Loki as the God of Mischief, which brings the inner depth of one"s burning desire in a person to the surface. This concept was used in the character of the infamous movie The Mask, with its brilliant special effects. Alok Ojha envisioned his own character, LOKI, as a conglomerate of the best characteristics of this mythological hero outside of the space-time continuum. One may also realize the dynamism of LOKI when comparing him with regard to the Avenger movie.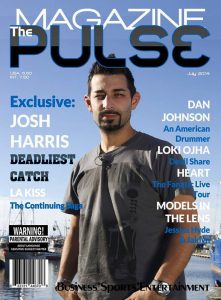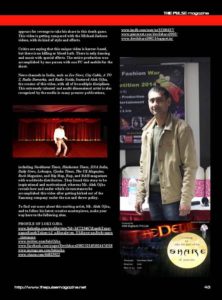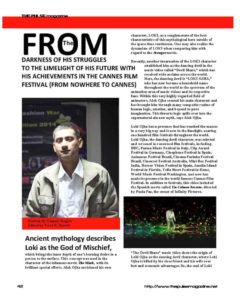 Recently, another incarnation of the LOKI character established him as the dancing devil in the music video called "Devil Share," which has received wide acclaim across the world. Here, the dancing devil is "LOKI OJHA," who has now become a household name throughout the world in the spectrum of the  animation area of music videos and its respective fans. Within this very highly regarded field of animators, Alok Ojha created his main character and has brought him through many composite realms of human logic, emotion, and beyond to pure imagination. This thwarts logic spills over into the supernatural ala new myth, says Alok Ojha.
Loki Ojha has a presence that has reached the masses in a very big way and is now in the limelight, nearing one hundred film festivals throughout the world. Loki Ojha, the dancing devil character, was selected and screened in renowned film festivals, including BBC, Parma Music Festival in Italy, Clip Award Festival in Germany, Cinephone Festival in Spain, Animasao Festival Brazil, Cinema Farinha Festival Brazil, Cinewest Festival Australia, Mini Box Festival India, Horror Vision Festival in Spain, Amelia Island Festival in Florida, Tolfa Short Festival in Rome, World Music Festival Washington, and now has made its presence in the world famous Cannes Film Festival. In addition to festivals, this video included the Spanish movie called Un Crimen Secreto, directed by Paola Paz, the owner of Infinity Pictures.
Written By Tammy Hegyes
Edited by Terri R. Bassett